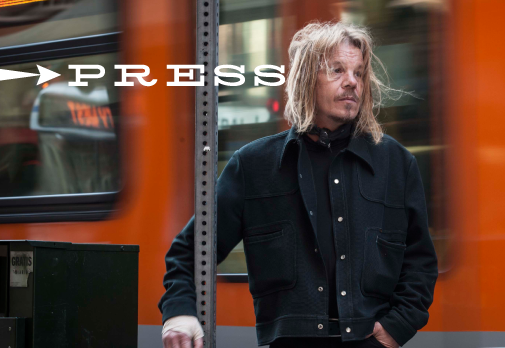 ---
THE "RANTS & RAVES"
---
---
---
Rave-Ups leader back with blistering new music … The Rave-Ups were one of the most promising band of the '80s, and should have had a career that rivaled R.E.M., The Cure or at the very least alt-legends The Replacements. They were doing alt-country before Uncle Tupelo existed. … The Rave-Ups' singer/songwriter, Jimmer Podrasky, has just released his first new music in 23 years — the perfectly titled "The Would-Be Plans." The good news? It's a damn good set of life-worn songs, and the title track is one of his best tunes ever — a haunted hard-rock look at a man and his demons, wondering how things go wrong. … Go listen to the title cut – or any of them – on JimmerMusic.com and see if you're not instantly hooked. It's one of the best albums of 2013.
read more >
---
---
Not missing a beat from The Rave-Ups' last record–1990′s masterful Chance–Podrasky's first solo album The Would-Be Plans is a virtual songwriting clinic. From the gut-wrenching irony of "Empty" to the glorious pop wonder of "She Has Good Records," Podrasky sounds invigorated and as potent as ever. With a few players on loan from Dwight Yoakam's band backing him, as well as Rami Jaffe and Marty Rifkin in tow, Podrasky effortlessly reasserts himself as one of the greatest songwriters currently roaming this planet.
read more >
---
---
When singer and songwriter Jimmer Podrasky finally finds the time ripe for a solo album, it sounds as if time has stood still. The Rave-Ups were a great band. Equal parts pop / power pop, roots-rock, alternative rock, alt-country (long before alt-country / No Depression / Americana moniker existed) and singer / songwriter tunes. And Podrasky has taken all this with him. … Here we are back in the sound of "Town and Country" from 1985. But harder. More rock. Less shades. I am reminded how much I loved and still love this band.. When Podrasky finally managed to drive the career forward again, he has put a fourth building block on top of his fantastic great portofolio.
read more >
---
---
A Magical Record That Sounds Like Love Feels … Some songwriting alchemists have the ability to sustain the magic for an entire album. Bob Dylan on Highway 61 Revisited comes to mind, as do Brian Wilson on The Beach Boys' Pet Sounds, Van Morrison on Astral Weeks, Bruce Springsteen on Born to Run, Paul Westerburg on The Replacements' Tim, Elliott Smith on Either/Or, Jeff Mangum on Neutral Milk Hotel's In the Aeroplane Over the Sea, and Sufjan Stevens on Illinois. Songwriter Jimmer Podrasky is of their company. … But, ultimately, comparisons don't matter when you get the chance to welcome back one of America's greatest–and most magical–songwriters: Jimmer Podrasky.
read more >
---
---
.Jimmer took some time off to raise that son, Chance, and now, 23 years later, he's launched his solo career with an album that finds his bruised, lovelorn persona remaining intact, none the worse for wear. … Still, for all that melancholy, Jimmer leaves the door a crack open to the possibility he can, and most likely will, fall in love again. It's too bad it took him 23 years to rediscover a passion for what he does best, but luckily for us, he's done just that here.
read more >
---
---
American music at its finest! A fine mixture of everything that makes americana what it was meant to be with the right amount of twang along with some California sun. Makes me wanna drive across the country or better yet hop into a boxcar. Go Jimmer, Go.
read more >
---
---
Ladies and Gentlemen, do yourself a favor and check out the classic style, songs and vibe on this very cool album.
read more >
---
---
Jimmer is a gritty poet with a sentimental heart. Love the melodies and harmonies — reminds me of Burrito Brothers, Dylan and even Mike Stinson. I really dig it! "(She Has) Good Records" is a smash!
read more >
---
---
I love this Mitch. It's everything I remembered I liked about his music. Tasty dude! Sweater up!
read more >
---
---
Jimmer Podrasky is that rare find: someone with seductive good looks and charisma and the solid songwriting skills to reach out meaningfully to a more sophisticated audience. Podrasky walked on stage looking as rumpled as if he had just rolled out of bed. His wrinkled shirt sleeve stretched far beyond the limits of his black jacket and he kept rubbing his tousled blond hair. When the music started, however, he stepped to the microphone and sang with authority and snap. There is a strong sense of innocence and romanticism running through his songs, yet he is capable of sarcasm and bite. Podrasky's best songs revolve around a questioning of contemporary values. He writes a lot about alienation and suburban blues, though not in predictable fashion. He's not afraid to show his own insecurities and doubts.
read more >